Hurricane Code South Florida: 2020 Update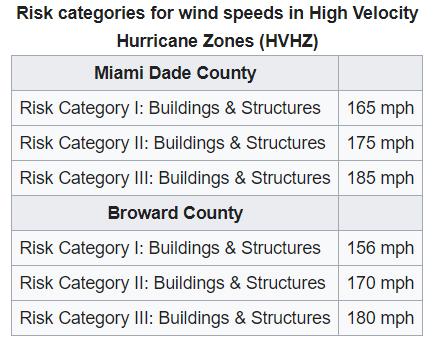 Since the strike of Hurricane Andrew back in 1992, South Florida has made many advancements for hurricane code designations and has adopted very-strong building codes across the board. Florida is a big state and with water on both sides, it is all hurricane vulnerable.
In 2002, Florida implemented a statewide building code which made a real difference. Miami-Dade and Broward counties are now part of a High-Velocity Hurricane Zone, where local code requires that a building's entire area including windows and doors incorporate a lab-tested, wind-resistant design. These requirements vary in the northern parts of the state based on predictions of where peak winds will be the strongest.
Building Codes Updated
For the last few years, Florida's building code has used standards from the International Code Council (ICC) as its base for updates every three years. Overall, the state planners take the latest ICC standards and use them as a starting point. They then enhance the code to address Florida-specific measures as needed.
This all changed back in 2017, when the Florida legislature voted to no longer base the code on the ICC releases. Instead, the state is now free to pick and choose whichever code revisions it deems most appropriate without changes being triggered by ICC code changes.
South Florida's Best Hurricane Impact Windows
Keeping your home safe with storm proof hurricane high impact windows is a priority for CitiQuiet Windows and Doors. We provide not only high-quality hurricane impact windows, but we work with quick, efficiently and provide professional service to get the job completed to exceed your standards and expectations. We also offer a wide range of impact window manufacturers to provide the most cost efficient and highest rated impact window package for your home or business. When you have storm windows installed on your property in Palm Beach, Broward or elsewhere in the South Florida area, you'll be doing more than simply preparing for hurricane season; you'll also be providing your family and business with much-needed peace of mind. Our knowledgeable, experienced, and highly trained team will install storm windows flawlessly the first time, ensuring years of optimal performance.
CitiQuiet Windows and Doors can help before the storm hits with professional installation of hurricane proof windows and hurricane proof doors. Contact us for help securing or restoring your property today.
CitiQuiet Windows and Doors
Since 2012, CitiQuiet Windows and Doors has been engineering and installing high-quality impact windows and doors for residential and commercial buildings throughout Palm Beach, Broward, and Miami-Dade Counties.
Based in Boca Raton, CitiQuiet Windows and Doors offers a turnkey service to clients including initial design, engineering, and permitting, installation and finish work. From elegant French doors to hurricane impact-resistant windows and sliding glass doors, CitiQuiet Windows and Doors has your solution.
At CitiQuiet Windows and Doors, we carry only the highest-quality products from the nation's top manufacturers – and we stand behind everything we sell. For a free estimate, contact CitiQuiet Windows and Doors at 561-241-9463, visit us at citiquiethurricanewindows.com, or stop by the showroom today at 910 Clint Moore Road, Boca Raton, FL 33487.
With an A+ rating from Better Business Bureau (BBB), CitiQuiet Windows and Doors consistently strives to exceed customer expectations.