Preparing for Hurricane Season: Top 10 List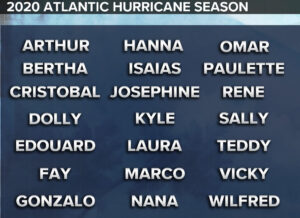 It's that time of year again….the new list of names for the 2020 Hurricane Season has come out
Now is the time to prepare ahead of time for the upcoming hurricane season. It is advised not to wait until a hurricane comes your way – follow these top 10 hurricane season tips:
1. Secure your home. Hurricane Proof Windows and Doors are highly recommended. If you do not have these now try to have them installed soon. Also, check the garage door for braces that might be needed during a storm. Ensure all items are professionally installed.
2. Verify insurance coverage. Avoid wind and water insurance issues. Check your homeowner's policy and purchase additional flood insurance through the National Flood Insurance Program to ensure you have adequate protection if necessary.
3. Keep supplies handy. Review FEMA's emergency supply list. Having the right supplies is among the top hurricane season tips. It is recommended to have a three-day supply of water, dried or canned foods, and other essentials ready.
4. Trim trees and shrubbery. Trim back any branches touching your home. If they rub your roof, they could pull parts of it off in a storm. Keep trees closely pruned to allow wind to pass through with minimal damage and debris.
5. Unplug electronics. Even if you have a surge protector, it is best to unplug. This is the best protection against surge-related damage to appliances and electronics.
6. Check for leaks. Check doors, windows, walls and areas where cables and pipes enter, for openings that could allow water to penetrate. If you need new doors or windows try to have them installed soon.
7. Prepare for long-term outages. Consider purchasing a generator – big or small. One that is big enough to run a refrigerator and a few essentials can really make things easier.
8. Clean gutters. Cleaning prevents potential roof damage and flooding inside your home.
9. Clear clutter. Check your patio and around your home to get rid of items you are no longer using as they can turn into projectiles. Make room now to be prepared for bringing in lightweight outdoor items such as patio furniture, plants, and trashcans.
10. Evacuation Plan. Know where you need to go in case there is a mandatory evacuation order put in place.
Are you prepared for the 2020 hurricane season? CitiQuiet Windows and Doors can help before the storm hits with professional installation of hurricane proof windows and hurricane proof doors. Contact us for help securing or restoring your home today.
CitiQuiet Windows and Doors
Since 2012, CitiQuiet Windows and Doors has been engineering and installing high-quality impact windows and doors for residential and commercial buildings throughout Palm Beach, Broward and Miami-Dade Counties.
Based in Boca Raton, CitiQuiet Windows and Doors offers a turnkey service to clients including initial design, engineering and permitting, installation and finish work. From elegant French doors to hurricane impact-resistant windows and sliding glass doors, CitiQuiet Windows and Doors has your solution.
At CitiQuiet Windows and Doors, we carry only the highest-quality products from the nation's top manufacturers – and we stand behind everything we sell. For a free estimate, contact CitiQuiet Windows and Doors at 561-241-9463, visit us at citiquiethurricanewindows.com, or stop by the showroom today at 910 Clint Moore Road, Boca Raton, FL 33487.
With an A+ rating from Better Business Bureau (BBB), CitiQuiet Windows and Doors consistently strives to exceed customer expectations.